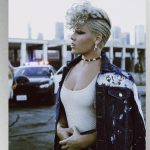 Ryan Aylsworth
Ryan AylsworthPink's back with a new single, and now she's getting a new honor.
The singer and mother of two will receive the Michael Jackson Video Vanguard Award at the 2017 MTV Video Music Awards, and will also perform on the telecast. Past recipients of the award include Madonna, Peter Gabriel, Guns N' Roses, Justin Timberlake, Rihanna, Justin Timberlake, Britney Spears and Beyonce.
According to The Hollywood Reporter, MTV says that Pink is being honored for "her trailblazing impact on music, pop culture, fashion and philanthropy."  MTV will premiere the video for her new single "What About Us" on Wednesday at 6 p.m.
Pink's new album, Beautiful Trauma, is due October 13.
The 2017 VMAs, hosted by Katy Perry, will air live from the Forum in Inglewood, CA on August 27 at 8 p.m. ET/PT.
Copyright © 2017, ABC Radio. All rights reserved.