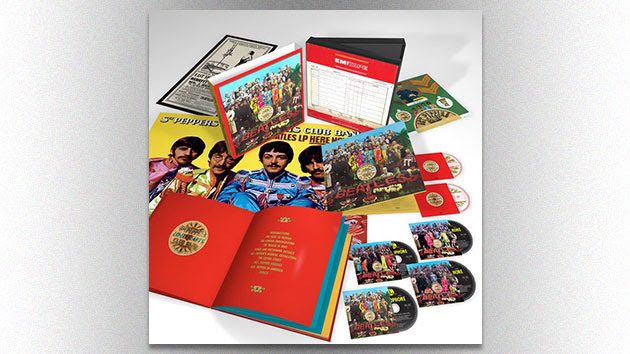 Parlophone/Capitol Records/UMePaul McCartney is donating a special collectible item to an upcoming auction that will raise funds for two families affected by the terrorist bombing at an Ariana Grande concert this past May in Manchester, U.K., BBC News reports.
The former Beatles star will personalize a copy of the deluxe 50th anniversary box set of his old band's classic album Sgt. Pepper's Lonely Hearts Club Band for the highest bidder at a Bonhams auction scheduled for December 13 in London.
Proceeds raised by the sale will benefit the families of 14-year-old Eilidh MacLeod, who was killed in the bombing, and 15-year-old Laura MacIntyre, who was seriously injured in the attack. The two teens were friends from Scotland's Isle of Barra who attended the show together.
"We are extremely grateful for Sir Paul's kind gesture," said Eilidh's parents, Roddy and Marion MacLeod. "People's generosity has helped us greatly in the aftermath of our loss and we can't thank them enough."
Laura's father, Michael MacIntyre, added, "This was an amazing and brilliant gesture by Paul McCartney in donating this personalized Sgt. Pepper album for auction to help Laura's recovery and her future."
He added, "We are grateful to Sir Paul and the many others who have helped financially to what has been an unbelievably difficult situation that we found ourselves thrust into."
A rep for McCartney said the rock legend was "glad to help."
The bombing, which took place at Manchester Arena, killed 22 people and wounded more than 500.
Sir Paul kicks off a tour of Australia on Saturday in Perth.
Copyright © 2017, ABC Radio. All rights reserved.