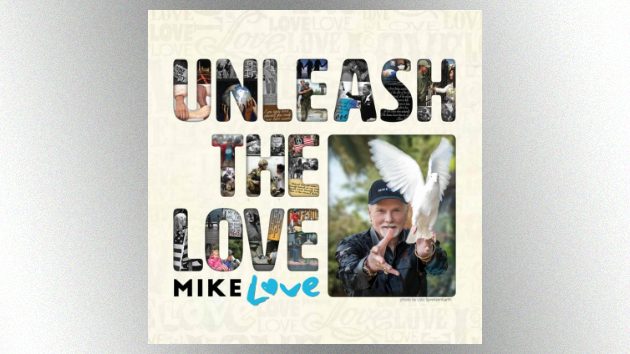 BMGThe Beach Boys' Mike Love recently released his first new solo album in decades, Unleash the Love. The 25-track collection features a disc of previously unreleased solo tunes that the founding Beach Boys frontman has been amassing for years and a disc containing new versions of songs by his famous band.
"We have a combination of things we did many years ago and things we did more recently," the 76-year-old Rock & Roll Hall of Famer tells ABC Radio. "And it's great to reincarnate [the Beach Boys] songs and do it with all the care and love that you can possibly bring to the situation."
Much of the new original material on the album focuses on positive themes including world peace, helping the environment and spiritual enlightenment. Love describes the title track as "a gospel song [that addresses] the fact that there's so much dissension and chaos and disharmony in the world that it's time we forget about the differences and focus on love."
Other standout new songs include "Only One Earth" and "Make Love Not War." Love says the latter track is a rock tune that he envisions performing someday with a hard-rocking group like The Scorpions.
The new renditions of various Beach Boys songs were recorded with members of the group's touring lineup, as well as with some special guests. For example, an updated take on "Do It Again," which was first released as a single in July, features Sugar Ray's Mark McGrath sharing lead vocals with Mike, as well as honorary Beach Boy John Stamos on drums.
Love's daughter Ambha takes on lead vocals on a new version of the 1964 hit "The Warmth of the Sun." "She sounds wonderful on it," says Mike.
Here's the full track list of Unleash the Love:
Disc One — Mike Love Originals
"All the Love in Paris" — featuring Dave Koz on saxophone
"Getcha Back" — featuring John Stamos on drums
"Daybreak over the Ocean"
"I Don't Wanna Know"
"Too Cruel"
"Crescent Moon"
"Cool Head, Warm Heart"
"Pisces Brothers"
"Unleash the Love"
"Ram Raj"
"10,000 Years Ago" — featuring John Stamos on drums
"Only One Earth"
"Make Love Not War"
Disc Two — Mike Love/Beach Boys Re-Records
"California Girls"
"Do It Again" — featuring Mark McGrath and John Stamos
"Help Me Rhonda"
"I Get Around"
"Warmth of the Sun" — featuring Ambha Love
"Brian's Back"
"Kiss Me Baby"
"Darlin'" — featuring AJR
"Wild Honey" — featuring John Cowsill
"Wouldn't It Be Nice"
"Good Vibrations"
"Fun Fun Fun"
Copyright © 2017, ABC Radio. All rights reserved.