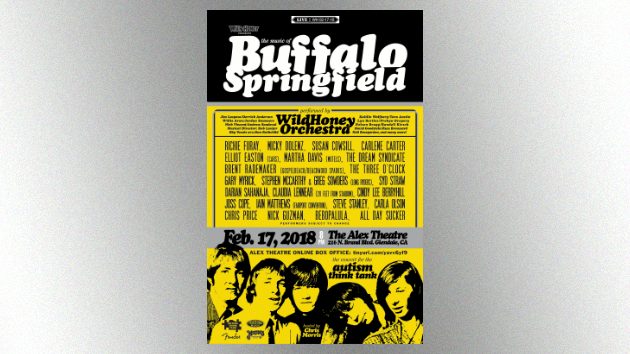 Design by Steve StanleyAn expanded lineup has been unveiled for the previously announced Buffalo Springfield tribute show featuring an appearance by original band member Richie Furay that's scheduled for Saturday, February 17, at the Alex Theatre in Glendale, California. Among the artists joining Furay and the event's house band, The Wild Honey Orchestra, will be Cars guitarist Elliot Easton, The Monkees' Micky Dolenz, The Cowsills' Susan Cowsill and The Motels' Martha Davis.
Other musicians on the bill include and Brian Wilson's longtime musical director Darian Sahanaja, Carlene Carter, famous session vocalist Claudia Lennear, ex-Fairport Convention singer Iain Matthews and many others.
The Wild Honey Orchestra is a rotating collective of Los Angeles-area musicians who've taken part in several star-packed tribute shows during the last few years to raise money for Autism Think Tank, a non-profit organization that brings together top specialists via an online conference to work on solutions to issues faced by young people with autism.
Copyright © 2018, ABC Radio. All rights reserved.