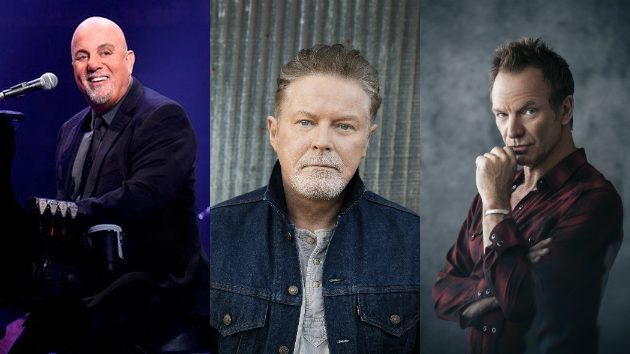 Kevin Mazur; Danny Clinch; Eric Ryan Anderson
Kevin Mazur; Danny Clinch; Eric Ryan AndersonBilly Joel hasn't released an album of original pop songs in 25 years, but that doesn't mean he doesn't work on music. In fact, he tells the The New York Times that he wouldn't be adverse to the idea of joining a band.
Before he became a solo superstar, Joel was in several less-than-successful bands, including The Hassles and Attila. But these days, he tells The Times, "Sting and Don Henley and I always joke around: 'Just for the [hell] of it, let's put together one of those supergroups that explode after, like, a year.'"
He adds, "I think it could be fun to join a band. I enjoyed it when I was a teenager. And I'd consider writing songs in that kind of milieu."
As for why he stopped writing songs on his own, the Piano Man explains, "I set a very high bar for myself, and I couldn't get there. I couldn't be as good as I wanted to be, and it was frustrating. So I'd get drunk, just to make myself forget about my frustration, and my personal life went to hell."
Joel feels that the closest he ever got to that "high bar" are his songs "Vienna," "And So It Goes," "Great Wall of China" and "She's Right on Time." But he's not a fan of his signature tune, "Piano Man."
"I don't think it's that good a song. It's a story song, like 'Taxi' [by] Harry Chapin, more of a folk song than a pop tune," Billy maintains. "It's in 6/8 time, which is a waltz, about these losers in a bar. But people love it."
August 10 marks the 25th anniversary of the release of Joel's last pop album, 1993's River of Dreams.
Copyright © 2018, ABC Radio. All rights reserved.