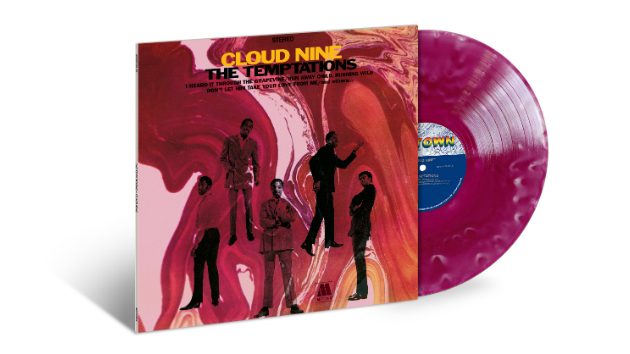 Motown/UMe
Motown/UMeThe Temptations' 1969 album Cloud Nine found the famed Motown band combining its classic soul style with the mind-warping psychedelic sounds that had become popular with many artists of the era. Now the album, which reached #4 on the Billboard 200, has been reissued as a limited-edition LP pressed on swirled pink-and-white vinyl that echoes the record's cover art.
Cloud Nine was the first Temptations album to feature Dennis Edwards, who took over for the group's lead tenor David Ruffin. The album features to songs that reached the top 10 of the Billboard Hot 100, the title track and "Runaway Child, Running Wild," both of which peaked at #6. The latter tune also topped Billboard's R&B singles chart.
The album also features a version of the classic Marvin Gaye hit "I Heard It Through the Grapevine," which was written by Norman Whitfield and Barrett Strong. The famed Motown songwriting duo, penned most of the tunes on Cloud Nine, and Whitfield produced the record.
The colored-vinyl version of Cloud Nine can be purchased now at TemptationsOfficial.com.
Meanwhile, as previously reported, a new stage musical based on The Temptations' story, Ain't Too Proud — The Life and Times of The Temptations, will get its Broadway premiere on March 21, 2019, at the Imperial Theatre in New York City.
Copyright © 2018, ABC Radio. All rights reserved.