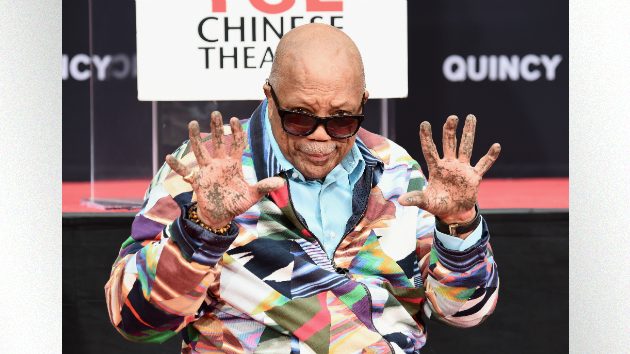 Amanda Edwards/WireImage
Amanda Edwards/WireImage
Quincy Jones received a special honor in Hollywood today, as the legendary producer and composer placed his hands and footprints in cement at the historic TCL Chinese Theatre.
The 27-time Grammy winner was recognized for his lifetime achievement in entertainment, and is the first composer to be so honored. At the ceremony, he recalled how he became the first black composer in Hollywood.
"I am beyond thankful to have had the opportunity to work on more than 35 film scores," he said. "When I started: No black composers on single screen credits. And two people helped me solve that. That was Sidney Poitier. Gave me six films. And Sidney Lumet."
R&B star Usher and hip-hop legend Snoop Dogg were on hand to help honor Quincy.
"I would not be the humanitarian I am today if you did not make me understand that there's so much more important than what you're doing in music," Usher told Quincy. "You gotta make sure that you continue to supply the resource, the love, the passion…empathy for those people who might not necessarily have the voice to raise it."
Snoop Dogg also praised Jones.
"Quincy has been like a real friend to me," he said. "Giving us information and wisdom on how to live and how to better ourselves, and how to use our voice as a platform to be more positive."
Jones is one of only 18 EGOT winners, having won an Emmy, Grammy, Oscar and Tony. His production credits include one of the best-selling singles of all time, "We Are the World," and Michael Jackson's iconic albums Thriller, Bad and Off the Wall.
A two-hour BET special honoring Jones called Q85: A Musical Celebration for Quincy Jones will air December 9. It will feature such stars as Stevie Wonder, Oprah Winfrey and John Legend.
Copyright © 2018, ABC Radio. All rights reserved.