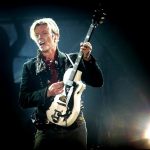 After an 18 month battle with cancer, singer and songwriter, David Bowie passed away yesterday January 10, 2016.
He had just celebrated his 69th birthday and the release of his latest album, Blackstar, this weekend.
May he rest in peace.
January 10 2016 – David Bowie died peacefully today surrounded by his family after a courageous 18 month battle… https://t.co/ENRSiT43Zy

— David Bowie Official (@DavidBowieReal) January 11, 2016
Live feed of fans paying tribute.