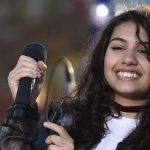 DISNEY/Mark Ashman
DISNEY/Mark AshmanAlessia Cara's debut album, Know-It-All, brought her critical acclaim, global fame and numerous awards. She's now working on her material for the follow-up, and says she's writing all the songs by herself, because nobody else could possibly understand how her life has changed in the past few years.
"Partly why I wanted to do this on my own is because I think this experience is very unique, I feel it has to come from me," Alessia tells ABC Radio. However, she admits, "It's going to be interesting trying to come up with ways to make what I'm going through relatable, because not many people have this life."
"So I hope people still get it," the 21-year-old Canadian singer continues. "But at the same time, every feeling has been felt before — so I'm not that different than anyone else, really."
As for what the songs will sound like, Alessia says she's writing them in the same style as the songs on her debut album — the style you heard on hits like "Here" and "Scars to Your Beautiful."
"I've been writing for a couple of months now and…naturally the way I write is just that way. Like…straightforward with many words in it," she tells ABC Radio.
"I don't know what we would call my writing," she adds. "But that's just naturally how I do it, so there's going to be a lot of that on this album."
Unfortunately, we're unlikely to hear any of Alessia's new music until next year.
Copyright © 2017, ABC Radio. All rights reserved.