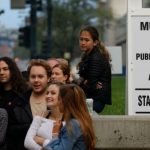 Joe Mahoney/Getty Images
Joe Mahoney/Getty ImagesA jury has been seated, opening statements are concluded and testimony has begun in the trial that pits a Colorado deejay against Taylor Swift.
The jury — two men and six women — heard opening statements from both sides in the civil suit. The deejay, David Mueller, has sued Taylor, saying her claim that he groped her during a meet-and-greet in 2013 is false and caused him to lose his job. Taylor has countersued, claiming assault and battery for "offensive and harmful physical contact."
Taylor's mom Andrea Swift dabbed away tears as the singer's attorney Doug Baldridge introduced her, talking about the incident and how Mrs. Swift has always protected her daughter "in every interaction she's ever had with adults as she's come up through the industry."
In his opening statements, Baldridge said that Taylor has been in "tens of thousands of meet and greets" without incident and asked what possible motivation she would have to fabricate a story like this. Baldridge added that Taylor is "absolutely certain" that Mueller "grabbed her rear end," and claimed the deejay has changed his story seven times.
Baldridge also noted that Mueller has "lost or destroyed" five electronic devices which contained recordings of a meeting with his boss, after which he was terminated.
Baldridge also noted that Mueller is asking for 15 times the amount of money left on his contract when he was fired; Taylor, by contrast, is only asking for one dollar.
"She's trying to tell people that you can say no! when someone puts a hand on you, no matter who you are," he concluded.
Mueller has taken the stand, but he hasn't yet been asked about the incident. That should happen in the next hour or so.
Copyright © 2017, ABC Radio. All rights reserved.