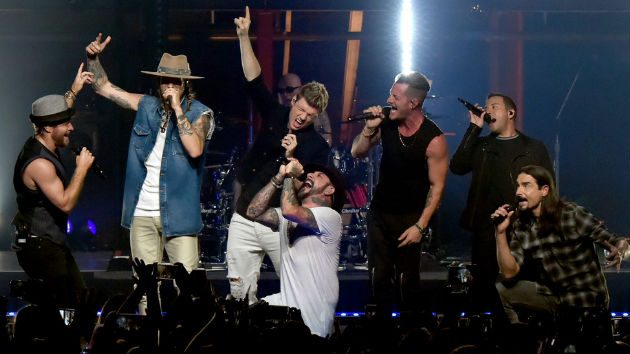 Rick Diamond/Getty Images
Rick Diamond/Getty ImagesYou'll have to wait until next Wednesday for the premiere of the new episode of CMT Crossroads that pairs the Backstreet Boys with their pals, country superstars Florida Georgia Line. But just in case the anticipation is killing you, CMT is offering a little preview.
Earlier this year, Backstreet and Florida Georgia Line topped the country chart with their collaboration "God Your Mama and Me," and performed together on several stadium dates.
Those shows really must've rubbed off on Florida Georgia Line, because in the preview clip, now on YouTube, you can see the duo's Tyler Hubbard and Brian Kelley doing all the choreography to "Everybody (Backstreet's Back)."
Recorded in front of a standing-room-only crowd at The Factory in Franklin, Tennessee, the special also features BSB's "I Want It That Way" and "As Long As You Love Me," plus "God, Your Mama and Me" and a number of Florida Georgia Line's chart-topping country hits.
You can watch the full episode of CMT Crossroads: Backstreet Boys and Florida Georgia Line starting at 10 p.m. ET on Wednesday, August 30.
Copyright © 2017, ABC Radio. All rights reserved.