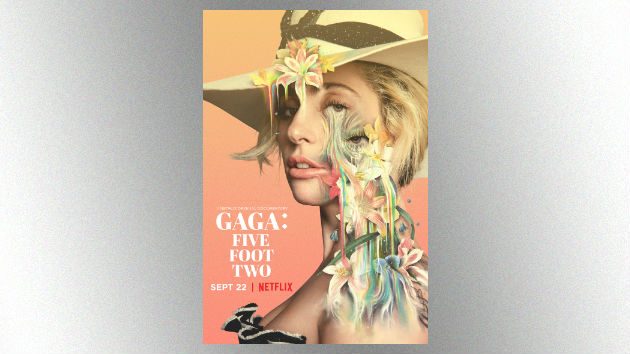 Courtesy Netflix
Courtesy NetflixWhat's a year in the life of Lady Gaga like? You'll find out September 22 when Netflix premieres a new documentary titled Gaga: Five Foot Two.
The movie, described as an "intimate and unfettered portrait" of the star, will premiere at this year's Toronto International Film Festival before it hits Netflix. It doesn't actually follow Gaga for an entire year: instead, we get eight months of the star's life as she records and releases her most recent album, Joanne, deals with serious health and relationship issues, and hangs out with her family and her dogs.
In a statement, the director, Chris Mourkabel, says, "I had a rare opportunity to create a portrait of an artist with such an open heart and mind. I feel really lucky that Gaga trusted me and my vision."
A Netflix exec adds that the film will allow fans to experience the "drive, conflict, passion, complexity and deeply personal creative process behind this singular artist."
There are a variety of brief clips from the movie posted on Gaga's Instagram feed. One shows Gaga getting medical treatment; in another, we hear her crying about being alone.
Still another clip shows Gaga's feet as she's being hoisted up to the ceiling of what we assume is the Houston NRG Astrodome during Super Bowl rehearsals. Yet another shows her talking about her relationship with Madonna — unfortunately, it fades out just when she says, "The only thing that really bothers me about her is…"
Gotta watch the movie to hear the rest!
#GagaFiveFootTwo pic.twitter.com/DbC2rEViDX

— xoxo, Gaga (@ladygaga) August 24, 2017
Copyright © 2017, ABC Radio. All rights reserved.