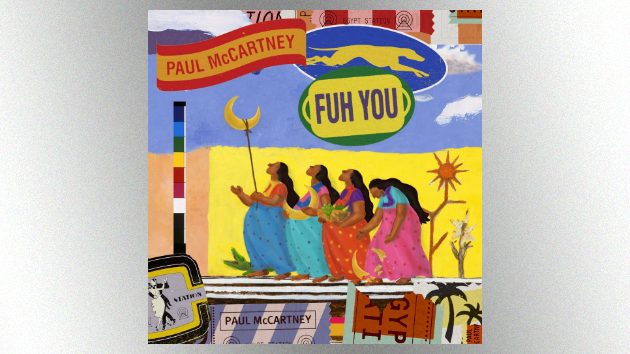 Capitol Records/UMe
Capitol Records/UMeAs expected, Paul McCartney premiered his suggestively titled new song "Fuh You" today. The tune, which will appear on McCartney'S upcoming album, Egypt Station, is available now as a digital single and via streaming services.
The catchy, mid-tempo pop-rock tune features modern production flourishes courtesy of OneRepublic frontman Ryan Tedder. A lyrics video for the song, which brings the McCartney-painted cover art for the single to life, can be viewed now at Paul's official YouTube channel.
McCartney notes that "Fuh You" was the only song on Egypt Station produced by Tedder and not Greg Kurstin.
"[Ryan and I] were just thinking of ideas and little pieces of melody and chords and the song just came together bit by bit," Sir Paul recalls about how "Fuh You" came together. "And then I would try and make some kind of sense of the story."
"So it was like 'Come on baby now. Talk about yourself. Tell the truth, let me get to know you' and basically 'I wanna know how you feel, you make me wanna go out and steal. I just want it for you,'" he continues. "So that was the basic idea and it developed from there…sort of a love song, but a raunchy love song. There you go — fuh you."
Meanwhile, McCartney has unveiled the full track list of Egypt Station, which features 16 songs. The album arrives on September 7.
In other news, McCartney is featured in a new video promoting his upcoming primetime "Carpool Karaoke" special with Late Late Show host James Corden. In the YouTube clip, Corden takes McCartney on a humorously awkward tour of the program's California office.
Carpool Karaoke: When Corden Met McCartney Live from Liverpool airs this Monday at 8 p.m. ET on CBS.
Here's the Egypt Station track list:
"Opening Station"
"I Don't Know"
"Come On to Me"
"Happy with You"
"Who Cares"
"Fuh You"
"Confidante"
"People Want Peace"
"Hand in Hand"
"Dominoes"
"Back in Brazil"
"Do It Now"
"Caesar Rock"
"Despite Repeated Warnings"
"Station II"
"Hunt You Down/Naked/C-Link"
Copyright © 2018, ABC Radio. All rights reserved.