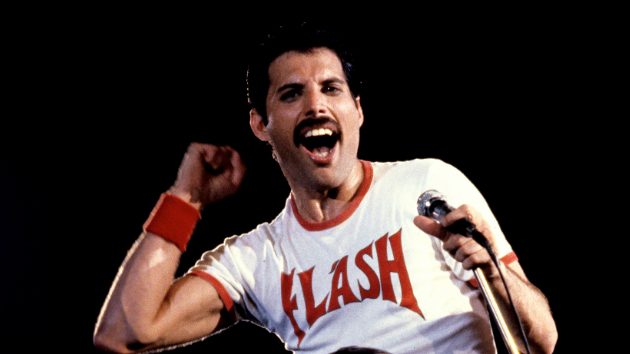 Neal Preston/©Queen Productions Ltd.
Neal Preston/©Queen Productions Ltd.A new Amazon Music commercial — part of the company's "A Voice Is All You Need" campaign — features the voice of Freddie Mercury, as well as an animated depiction of the late Queen singer's mustachioed mouth.
The ad promotes how easy it is to listen to your favorite songs by using Amazon's Alexa virtual assistant.
In the commercial, the cartoon mouth belts out the second verse and chorus of the Queen classic "Somebody to Love," with the band's music stripped away from the track. Mercury's mouth is shown on a small concert stage, which, it soon becomes apparent, is in the center of a large arena.
As the commercial nears its end, we hear a crowd cheer wildly while a burst of explosive pyrotechnics engulfs the mouth. Freddie's mouth then transforms into the Amazon mouth logo, which proceeds say, "Alexa, play Queen on Amazon Music." A clip of the full-band version of "Somebody to Love" then blasts as the ad ends.
Speaking about the commercial, Amazon Music executive Steve Boom tells Billboard, "[T]o hear Freddie Mercury's isolated vocal just sent chills up and down everyone's spine in the room. "
Bloom adds, "It's really showcasing his unbelievable voice — and then connecting it to voice control of your music service by having a voice come in and say, 'Alexa, play hits from Queen.' And then the whole power of the full instrumental version of the song comes in…we just knew it was a winner immediately."
The Mercury ad is the last in a series of "A Voice Is All You Need" commercials. Among the artists featured in the previous ads were pop star Ariana Grande, rapper Kendrick Lamar and R&B singer SZA.
Copyright © 2018, ABC Radio. All rights reserved.