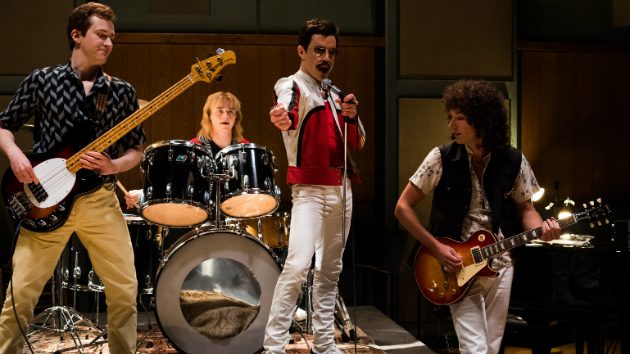 Alex Bailey TM & © 2018 Twentieth Century Fox Film Corporation
Alex Bailey TM & © 2018 Twentieth Century Fox Film CorporationWith the November 2 premiere date for the Queen biopic Bohemian Rhapsody fast approaching, a new preview video has debuted on YouTube featuring Queen guitarist Brian May and drummer Roger Taylor, as well as the actors who portray the band's four members.
As previously reported, the film starts Rami Malek as singer Freddie Mercury, Gwilym Lee as May, Ben Hardy as Taylor and Joseph Mazzello as bassist John Deacon.
In the two-minute clip, titled "Becoming Queen," the actors discuss their experience and the challenges they faced playing the rock legends, while May and Taylor talk about how they coached Lee and Hardy, respectively, so that their performances would be believable.
May reveals, "I showed [Lee] a few licks and he got very into it." He adds, "I do kind of believe he's me."
Taylor, meanwhile, points out that he taught Hardy "just a few visual tricks," then notes, "Learning how to actually play the drums does take years," as May responds, jokingly, with a chuckle, "Really?!"
As for how he felt about the performances, May declares, "The four guys who plays us are phenomenal. They completely lived it. They became us. It just sent shivers up your spine."
In the beginning of the preview, Malek says, "When you set out to play Queen you think, 'How am I ever going to fill those shoes?'" Later on in the clip, he admits, "There were moments where I said, 'Nope, that's never gonna happen.' But ultimately…we pulled it off.'"
As you'd expect, the video also offers glimpses of a variety of scenes from the movie. Bohemian Rhapsody follows Queen from the band's beginning to its historic performance at the 1985 Live Aid festival at London's Wembley Stadium.
Copyright © 2018, ABC Radio. All rights reserved.