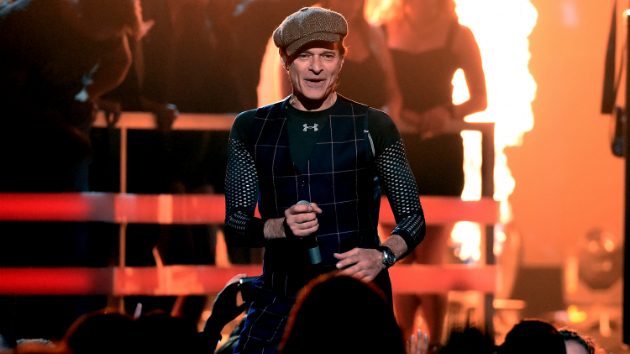 Ethan Miller/Getty Images via ABC
Ethan Miller/Getty Images via ABCLittle has been heard from Van Halen since its last tour ended in October 2015, but in a new interview with Vulture, frontman David Lee Roth drops major hints that the band will be hitting the road again in 2019.
According to the article, the first indication Roth gave that something was brewing with Van Halen occurred when he came to Vulture's offices in New York City for the interview and paid a visit to the copy-editing department.
While there, he commented, "When we come back through town in the summertime and do the original thing, maybe somewhere sportin', maybe with somebody famous…I'll make sure we get you all tickets so you can see what we do for gainful employment."
Roth later told the interviewer that his band will be "playing where the Yankees play."
Asked if he could confirm that Van Halen had plans to play Yankee Stadium, Dave backtracked, saying, "If I say something on tape here and everybody goes, 'Oh, this leaked…' But, the band will be — I can't say."
He then added, "I can say that I contacted colleagues about being part of the show: Metallica, Guns N' Roses, Jason Aldean, the Foo Fighters, [country stars Eric] Church and [Chris] Stapleton. And they all said that, if everything happens, they would certainly be involved."
Roth also gave some insight into why there are always long gaps between Van Halen tours.
"You can't keep serving it every year," he explained. "We're on a James Bond schedule, every three-and-a-half summers, so you don't go, 'Weren't you just here?' and then we'd start selling fewer tickets."
Also in the Vulture interview, Roth discussed a new business venture he's launched, Ink the Original, a line of skincare products made to keep tattoos from fading.
Copyright © 2018, ABC Radio. All rights reserved.