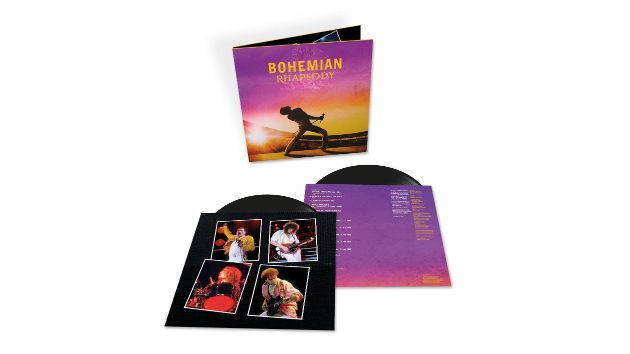 Hollywood Records
Hollywood RecordsA two-LP vinyl edition of the hit soundtrack to the acclaimed Queen biopic Bohemian Rhapsody will be released on February 8, 2019. In addition, a limited-edition picture-disc version of the album will be available on April 13 as part of the 2019 Record Store Day campaign, as will a special seven-inch single featuring Queen's classic song "Bohemian Rhapsody" backed with "I'm In Love with My Car."
The standard two-disc vinyl version of the soundtrack, which comes pressed on black vinyl, was mastered specially at London's Abbey Road Studios. It can be pre-ordered now.
The Bohemian Rhapsody soundtrack was co-produced by Queen guitarist Brian May and drummer Roger Taylor, and features 22 tracks, including the classic studio versions of several of the band's most famous songs, updated renditions of some tunes, and rare or previously unreleased concert performances. Among the latter tracks are the five songs that Queen played at the historic 1985 Live Aid concert at London's Wembley Stadium, which had never been officially released in audio form.
Following its initial release on CD and digitally in October, the soundtrack peaked at #3 on the Billboard 200 chart, and has spent five straight weeks on the top 10 of the tally.
The Bohemian Rhapsody film debuted at #1 at the U.S. box office, and has remained in the top five for six weeks.
As previously reported, Queen — with singer Adam Lambert — will mount a new North American trek dubbed the Rhapsody tour next summer. The six-week outing kicks off July 10 in Vancouver, Canada, and wraps August 23 in Charlotte, North Carolina.
Here's the full track list of the Bohemian Rhapsody soundtrack's vinyl version:
Side 1
"20th Century Fox Fanfare"
"Somebody to Love"
"Doing All Right…Revisited" — Smile
"Keep Yourself Alive" (Live at The Rainbow)
"Killer Queen"
"Fat Bottomed Girls" (Live in Paris)
Side 2
"Bohemian Rhapsody"
"Now I'm Here" (Live at Hammersmith Odeon)
"Crazy Little Thing Called Love"
"Love of My Life" (Rock in Rio)
Side 3
"We Will Rock You" (Movie Mix)
"Another One Bites the Dust"
"I Want to Break Free"
"Under Pressure" — Queen & David Bowie
"Who Wants to Live Forever"
Side 4
"Bohemian Rhapsody" (Live Aid)
"Radio Ga Ga" (Live Aid)
"Ay-Oh" (Live Aid)
"Hammer to Fall" (Live Aid)
"We Are the Champions" (Live Aid)
"Don't Stop Me Now…Revisited"
"The Show Must Go On"
Copyright © 2018, ABC Radio. All rights reserved.