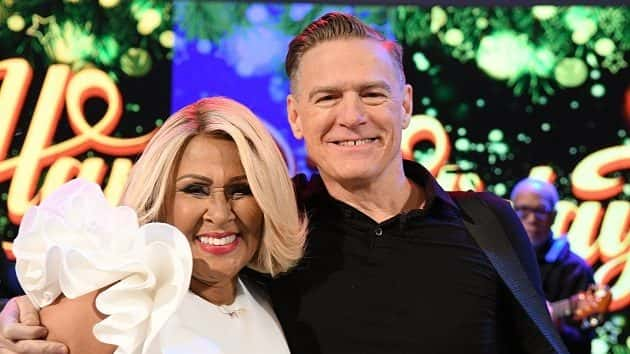 ABC/Lorenzo Bevilaqua
ABC/Lorenzo BevilaquaBryan Adams made a surprise appearance on ABC's The View on Friday, joining girl-group legend Darlene Love for a rousing rendition of her soulful 1963 holiday classic "Christmas (Baby Please Come Home)."
The performance, which was part of The View's annual holiday episode, featured the chat show's co-hosts singing backing vocals.
After the performance, Adams revealed that he plans to release a new studio album in March 2019 titled Shine a Light, and announced exclusively that it will include a duet with Jennifer Lopez. Bryan also gave a shout-out to J.Lo's mother, who was in the audience.
Adams will kick off the New Year with a tour of his home country, Canada, which begins January 22 in Moncton, New Brunswick. He then will launch a U.K. trek in support of Shine a Light in February. Love has a series of holiday shows lined up this month in the northeastern U.S.
Here are Adams' confirmed 2019 Canadian dates:
1/22 — Moncton, NB, Avenir Centre
1/23 — Halifax, NS, Scotiabank Centre
1/25 — Quebec City, QC, Videotron Centre
1/26 — Montreal, QC, Bell Centre
1/27 — Kingston, ON, Leon's Centre
1/29 — Oshawa, ON, Tribute Communities Centre
1/30 — Kitchener, ON, Kitchener Memorial Auditorium
1/31 — London, ON, Budweiser Gardens
2/1 — St. Catharines, ON, Meridian Centre
And here are Love's remaining 2018 concerts:
12/14 — Medford, MA, Chevalier Theatre
12/16 — Port Washington, NY, Landmark on Main – Jeanne Rimsky Theatre
12/17 — Annapolis, MD, Maryland Hall for the Creative Arts
12/19 — Wayne, NJ, Shea Center for Performing Arts – William Paterson University
12/20 — Red Bank, NJ, Count Basie Center for the Arts
12/21 — New York, NY, Sony Hall
12/22 — New York, NY, Sony Hall
Copyright © 2018, ABC Radio. All rights reserved.