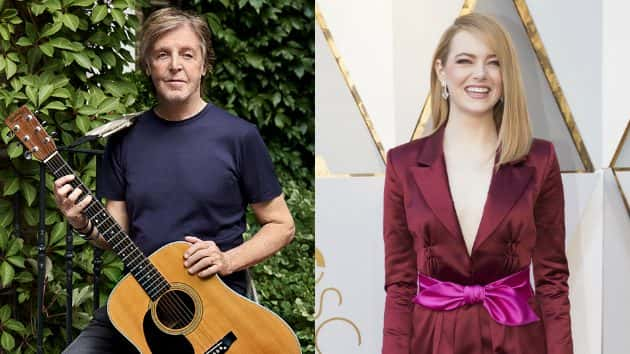 © 2011 Mary McCartney; ABC/Rick Rowell
© 2011 Mary McCartney; ABC/Rick RowellIn October, Paul McCartney confirmed that he and Oscar-winning actress Emma Stone had shot a video for his new song "Who Cares," which he noted has "an anti-bullying message." Now the former Beatles star has unveiled a sneak peek at the video, which will get its premiere on Monday at Apple Music.
The 15-second clip, which has been posted on Sir Paul's Facebook, Twitter and Instagram pages, shows glimpses of McCartney and Stone in a few theatrically cartoonish scenarios. At one point, Paul and Emma — who's wearing a bright-orange wig and black-and-white facepaint — are seen driving in a cardboard-cutout car as a group of actors wearing similar black-and-white faces chase them while flailing their arms in the air.
"Who Cares" is featured on McCartney's latest studio album, Egypt Station. In a "Words Between the Tracks" YouTube feature promoting the record that was posted in September, Paul discusses what the song is about.
"I was imagining young fans, or young people generally, who might hear this and who are going through some sort of problem where they're being picked on," McCartney says. "And these days it would be internet bullying, trolls and all that…I know that happens all over the world to millions of people, so my thing was to try and help, almost give some sort of advice."
Copyright © 2018, ABC Radio. All rights reserved.