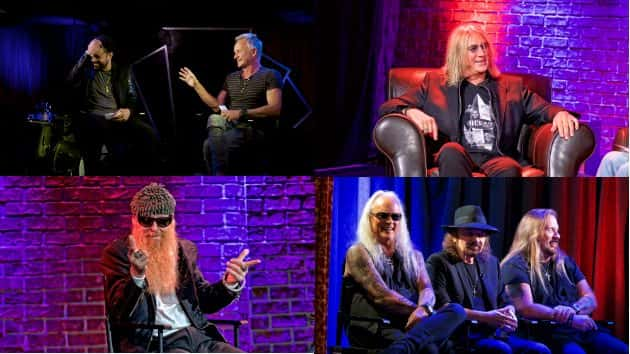 Credit: Jim Belmont
Credit: Jim BelmontThe fourth season of the public-television interview series Speakeasy premieres in January, and among the music stars featured on the six new episodes are Sting, Def Leppard's Joe Elliott, ZZ Top's Billy Gibbons, members of Lynyrd Skynyrd, Michael McDonald and Lenny Kravitz. Each episode of the hour-long show features one or more well-known artist conversing about various topics with a friend at a small New York venue.
The new season kicks off January 7 on select public-TV stations and January 13 on the WORLD public-television channel with an episode featuring Sting and his recent collaborator Shaggy, with whom he recorded the new reggae-flavored album 44/876. On the program, the two artists will discuss the making of the record, their Jamaican connection, James Bond, Miles Davis and more.
The other Speakeasy episodes will feature Elliott chatting with Rolling Stone writer/editor David Fricke; Gibbons talking with radio personality Eric Holland; Skynyrd's Gary Rossington, Johnny Van Zant and Rickey Medlocke in conversation with music journalist Rob Tannenbaum; McDonald being interviewed by his one-time producer Russ Titelman; and Kravitz talking with his pal Sean Lennon.
Full episodes of Speakeasy also will be streamed at SpeakEasyTalks.com. You can check out preview clips of Sting and Shaggy's conversation at Front and Center's official YouTube channel.
Rossington says of his and his Skynyrd band mates' experience taking part in an episode of the program, "We had a blast doing Speakeasy. We've been reminiscing a lot on our farewell tour this year and it was so cool to sit down with fans in such a small theater and share some of those memories with them."
Copyright © 2018, ABC Radio. All rights reserved.