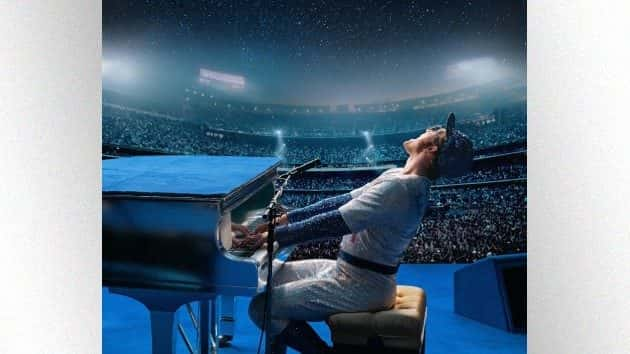 Taron Egerton as Elton John in Rocketman from Paramount Pictures
Taron Egerton as Elton John in Rocketman from Paramount PicturesAfter the surprise success of the 2018 Queen biopic, Bohemian Rhapsody, the next big music biopic on the horizon is Rocketman, which tells the story of Elton John's rise to fame in a non-traditional way. Elton's songwriting partner of 50 years, Bernie Taupin, says he thinks people will love Rocketman, while noting that the film may not be what they're expecting.
"I think the film's gonna be pretty special," Taupin tells ABC Radio. "Y'know, obviously, it's not a by-the-book biopic, it's very much a fantasy, so I think people really have to understand that. Because if they think it's going to be a color-by-numbers movie, they're in for a kind of surprise."
The movie features Kingsman star Taron Egerton as Elton and Bryce Dallas Howard as his mother, Sheila, while Billy Elliot star Jamie Bell plays Bernie — which Taupin's pretty happy about.
"The kid's a great actor, so I was thrilled by the fact that I got somebody who is so competent and wonderful as an actor to be able to portray me," says Bernie.
As for what it was like spending time with Bell in character, Taupin says with a laugh, "It's a little strange, y'know — it's like me being with me!"
In Rocketman, Egerton not only looks very much like Elton, but he's also doing all his own singing. Bernie says fans don't have to worry about the actor doing Elton's songs justice.
"Oh, he can definitely sing. I mean, the kid's extraordinary," Bernie gushes. "In fact, I just wrote a song for the credits of the film. Because Elton suddenly went, 'You know, we should write a song for the movie, maybe something that I can sing with Taron.' And so that's what we're doing!"
Rocketman hits U.S. theaters on May 31.
Copyright © 2019, ABC Radio. All rights reserved.