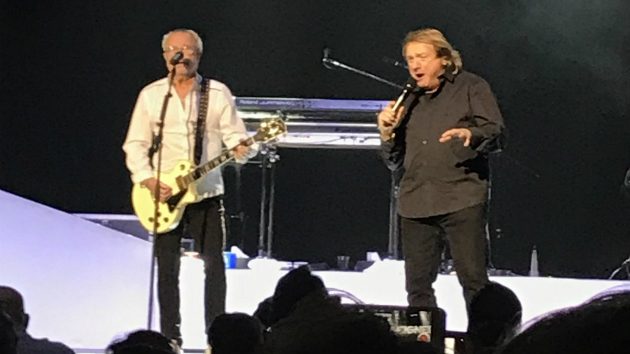 ABC Radio
ABC Radio
Foreigner guitarist and band leader Mick Jones has reconnected with the group's original frontman, Lou Gramm, in recent years, including performing together at several special reunion shows in 2017 and 2018. Now the two may soon collaborate on music again.
Jones tells ABC Radio, "We do indeed have a little trove of unfinished ideas [dating back to before Gramm left Foreigner in 2003] that we've talked about getting together and maybe finishing…And there's some time now…after slogging away this [past] year that we have to consider something like that…you know, bring them to fruition."
Mick points out, however, that Foreigner has a variety of musical endeavors and projects on its plate, so "it's just a question of time" whether he and Lou will be able to complete any of the tunes.
Jones notes that during the past couple years, the band has recorded live acoustic and orchestral albums, and toured in support of both projects, not to mention playing the reunion gigs, which saw Gramm and other original Foreigner members perform alongside the group's current lineup.
"The way these things are popping up, you know, the orchestral thing [and the] acoustic album [and tour]…we've discovered that we can cover a lot of bases," Jones says. "And it makes for a really interesting experience for our fans." (AUDIO IS ABC 1-ON-1)
As for Foreigner's 2019 plans, the band will launch a Canadian trek in February, followed by a series of spring U.S. shows. Foreigner then will head to Europe for a variety of gigs in June and July. The group also has confirmed performances at three U.S. fairs in September. Mick tells ABC Radio that a few Foreigner reunion concerts will be scheduled this year as well.
Here are all of Foreigner's 2019 North American shows:
2/22 — Coquitlam, BC, Canada, Hard Rock Vancouver
2/23 — Coquitlam, BC, Canada, Hard Rock Vancouver
2/24 — Kamloops, BC, Canada, Sandman Centre
2/26 — Cranbook, BC, Canada, Western Financial Place
2/27 — Calgary, AB, Canada, Grey Eagle Resort
2/28 — Enoch, AB, Canada, River Cree Resort & Casino
3/2 — Winnipeg, MB, Canada, Bell MTS Place
3/4 — Thunder Bay, ON, Canada, Thunder Bay Community Auditorium
3/5 — Sault Ste. Marie, ON, Canada, GFL Memorial Gardens
3/7 — Sudbury, ON, Canada, Sudbury Community Arena
3/8 — Hamilton, ON, Canada, FirstOntario Concert Hall
3/10 — Windsor, ON, Canada, The Colosseum at Caesars Windsor
3/11 — Peterborough, ON, Canada, Peterborough Memorial Centre
3/12 — Montreal, QC, Canada, Salle Wilfrid-Pelletier
3/14 — Québec, QC, Canada, Grand Théâtre de Québec
3/15 — Moncton, NB, Canada, The Centre at Casino New Brunswick
3/17 — Halifax, NS, Canada, Scotiabank Centre
3/18 — Charlottetown, PEI, Canada, Eastlink Centre Charlottetown
3/21 — Brookville, NY, Tilles Center for the Performing Arts
3/22 — Hanover, MD, Live! Event Center
3/23 — Cherokee, NC, Harrah's Cherokee Casino
3/25 — Leaves from Fort Lauderdale, FL, '70's Rock & Romance Cruise
4/20 — Durant, OK, Choctaw Grand Theatre
4/22 — Beaumont, TX, Julie Rogers Theatre
4/23 — Corpus Christi, TX, American Bank Center Selena Auditorium
4/26 — Biloxi, MS, Hard Rock Live Biloxi
4/27 — Valdosta, GA, Wild Adventures Theme Park
5/3 — Englewood, NJ, Bergen Performing Arts Center
5/5 — Verona, NY, Turning Stone Resort Casino
5/7 — Red Bank, NJ, Count Basie Theatre
5/8 — Morristown, NJ, Mayo Performing Arts Center
5/9 — Worcester, MA, Hanover Theatre
5/24 — Indianapolis, IN, Indy 500 Miller Carb Day
6/9 — Paso Robles, CA, Vina Robles Amphitheatre
6/14 — Lincoln, CA, Thunder Valley Casino Amphitheater
9/13 — Salt Lake City, UT, Utah State Fair
9/27 — Bloomsburg, PA, Bloomsburg Fair
9/29 — West Springfield, MA, Xfinity Arena at The Big E
Copyright © 2019, ABC Radio. All rights reserved.