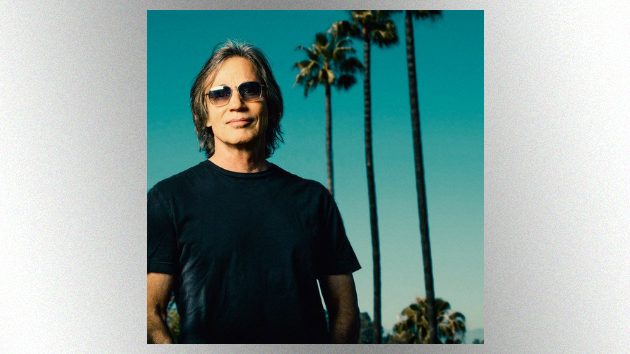 Credit: Brandise Daneswich
Credit: Brandise DaneswichJackson Browne's summer tour will be running on past his previously announced four-night stand at New York City's Beacon Theatre in late June.
The 70-year-old Rock & Roll Hall of Famer has lined up five new U.S. concerts, mapped out from a June 29 show in Wallingford, Connecticut, through a July 6 performance in Bethel, New York.
Like the Beacon Theatre concerts, the July 5 and July 6th gigs will feature indie-pop group Lucius as the opening act. Lucius is fronted by singers Holly Laessig and Jess Wolfe, who served as backing vocalists on Roger Waters' recent Us + Them tour.
Tickets for the new shows go on sale to the general public this Friday, February 15, at 10 a.m. ET. Information about advance tickets will be available soon at JacksonBrowne.com.
All of Browne's summer shows will feature the folk-rock legend accompanied by his full backing band.
Jackson also has an early-spring U.S. acoustic tour lined up that will visit a variety of Florida cities and other venues in the Southeast. The 13-date trek kicks off March 22 in Durham, North Carolina, and will wrap up with an April 9 show in Miami Beach, Florida.
Here are all of Browne's confirmed 2019 tour dates:
3/22 — Durham, NC, Durham PAC
3/23 — North Charleston, SC, North Charleston PAC
3/25 — Nashville, TN, Ryman Auditorium
3/26 — Birmingham, AL, Alabama Theatre
3/28 — Memphis, TN, Orpheum Theatre
3/29 — Biloxi, MS, IP Casino Resort & Spa
3/31 — Chattanooga, TN, Tivoli Theatre
4/1 — Atlanta, GA, Cobb Energy PAC
4/3 — West Palm Beach, FL, Kravis Center for the Performing Arts
4/4 — Clearwater, FL, Ruth Eckerd Hall
4/6 — Daytona Beach, FL, Peabody Auditorium
4/8 — Naples, FL, Artis-Naples
4/9 — Miami Beach, FL, Fillmore Miami Beach
6/23 — New York, NY, Beacon Theatre*
6/24 — New York, NY, Beacon Theatre*
6/26 — New York, NY, Beacon Theatre*
6/28 — New York, NY, Beacon Theatre*
6/29 — Wallingford, CT, Toyota Oakdale Theater+
7/2 — Boston, MA, Blue Hills Bank Pavilion+
7/3 — Vienna, VA, Wolf Trap+
7/5 — Saratoga Springs, NY, Saratoga Performing Arts Center*+
7/6 — Bethel, NY, Bethel Woods Center for the Arts*+
* = Lucius opens
+ = newly added show.
Copyright © 2019, ABC Radio. All rights reserved.