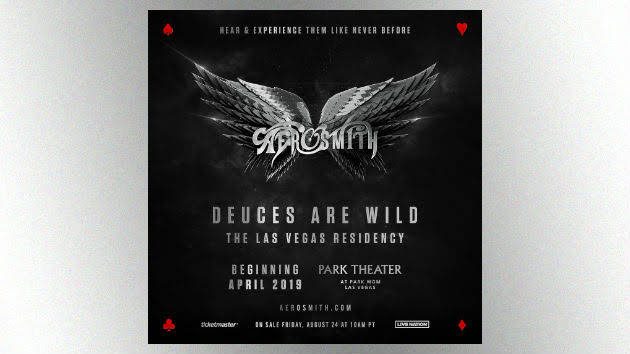 Live Nation/MGM Resorts International
Live Nation/MGM Resorts InternationalIf you couldn't get tickets to Aerosmith's residency at the Park Theater at the MGM resort in Las Vegas, you don't have to miss a thing: They're adding 17 new dates "due to extraordinary demand."
Steven Tyler and the boys from Boston are holding court in Sin City starting Saturday, April 6, and the residency was slated to wrap up on July 9. However, the new dates will take the show into December.
Tickets go on sale to the general public on February 16 at 10 a.m. PT, but there are pre-sales via the band's Aero Force One fan club starting Wednesday, plus additional pre-sales via Citi card and M Life Rewards loyalty program.
In addition, a new on-stage VIP experience will offer fans the opportunity to join the band at an exclusive VIP Bar area right in the middle of the action. Another option will be the ability to hear the audio direct from the show's mixing board via their own pair of THX Certified 1More Triple Driver in-ear headphones.
Check out ticketmaster.com/aerosmith for details on how to upgrade your experience with these goodies.
Here are the new dates:
September 21, 23, 26, 28
October 1, 3, 6, 8
November 14, 16, 19, 21, 24, 26, 29
December 1, 4
There are still limited tickets and VIP experiences for the following previously-announced performances:
April 6, 8, 11, 13, 16, 18, 21, 23, 26
June 19, 22, 24, 27, 29
July 2, 4, 7, 9
Copyright © 2019, ABC Radio. All rights reserved.