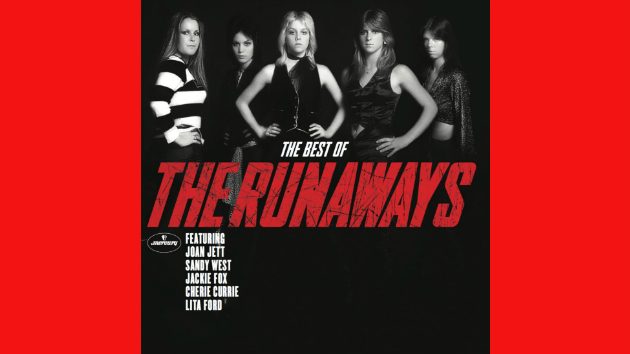 UME
UMETo ride the tide of colored vinyl, The Runaways are releasing an expanded version of their Best of collection, where fans will find three bonus tracks to listen to while the red vinyl spins.
The new edition of The Best of The Runaways includes "Cherry Bomb," "C'Mon," and "Queens of Noise," and is available on red or black vinyl, as well as CD and digital. You can even bundle the album with a limited-edition album art T-shirt.
You can order the bundles, and the different versions, at UDiscoverMusic.com.
At one point or another, the all-female Runaways lineup included Joan Jett, Lita Ford and Michael Steele, the latter of whom went on to join The Bangles.
Here's the track listing for The Best of The Runaways:
Side A
"Cherry Bomb"*
"Blackmail"
"I Love Playin' With Fire"
"Born To Be Bad"
"Take It Or Leave It"
"Queens Of Noise"*
"You Drive Me Wild" (Live Version)
Side B
"School Days"
"Wait For Me"
"Wasted"
"Don't Go Away"
"Waitin' For The Night"
"C'Mon"*
* = Not on earlier Best Of release
Copyright © 2019, ABC Radio. All rights reserved.