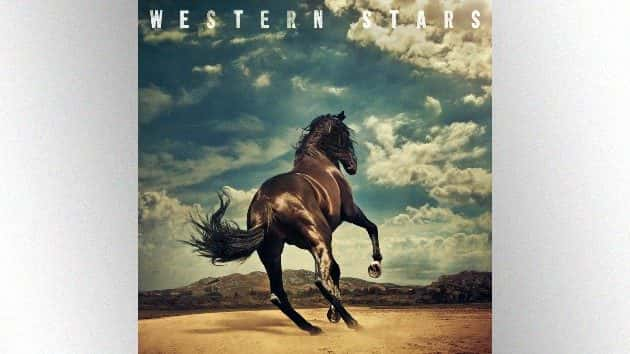 Columbia Records
Columbia RecordsThose teaser images on Bruce Springsteen's socials have paid off: The Boss is indeed releasing a new album.
Western Stars, Springsteen's first new studio album in five years, will be out June 14. As the artist teased a while back in an interview, the project was inspired by the Southern California pop records of the '60s and '70s. It was recorded mostly at his home studio in New Jersey, as well as in New York and California. The album is available for pre-order on Friday.
In a statement, Bruce says, "This record is a return to my solo recordings featuring character-driven songs and sweeping, cinematic orchestral arrangements. It's a jewel box of a record."
The first track to be released is called "Hello Sunshine," and it'll arrive just after midnight ET tonight.
The 13-track album covers themes such as isolation, community, "the permanence of home and hope," and "highways and desert spaces."
It was produced by Ron Aniello and Springsteen, and also features Patti Scialfa and 20 other musicians, including Jon Brion, early E Street Band keyboard player David Sancious, singer and violinist Soozie Tyrell and Charlie Giordano, who's been playing keyboard and accordion in the E Street Band since the 2008 death of Danny Frederici.
Here's the track listing:
"Hitch Hikin'"
"The Wayfarer"
"Tucson Train"
"Western Stars"
"Sleepy Joe's Café"
"Drive Fast (The Stuntman)"
"Chasin' Wild Horses"
"Sundown"
"Somewhere North of Nashville"
"Stones"
"There Goes My Miracle"
"Hello Sunshine"
"Moonlight Motel"
Copyright © 2019, ABC Radio. All rights reserved.