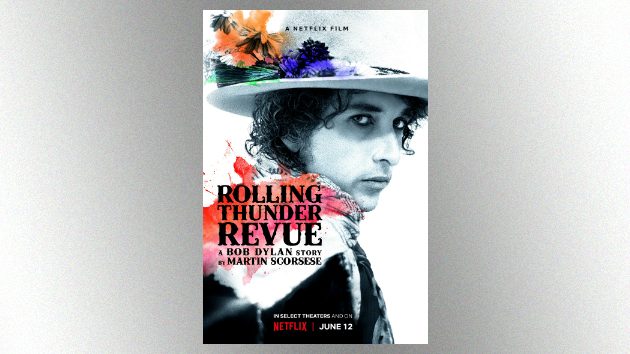 Courtesy of Netflix
Courtesy of NetflixIn January, Variety reported that a new Bob Dylan documentary and concert film directed by Martin Scorsese would premiere this year on Netflix. Now a release date and more official details about the movie — which documents Dylan's Rolling Thunder Revue tour of 1975 and '76 — have been announced.
Rolling Thunder Revue: A Bob Dylan Story will debut on Netflix on June 12, and will also open in select theaters on the same day.
According to a statement, the film "captures the troubled spirit of America in 1975 and the joyous music that Dylan performed during the fall of that year."
It adds, "Part documentary, part concert film, part fever dream, Rolling Thunder is a one of a kind experience."
Meanwhile, Variety reports that the "road show" screenings of the movie will be held on June 11 at theaters in 20 cities around the world, including New York, Los Angeles; Washington, D.C., Nashville, Philadelphia, San Francisco, Boston, Dallas, Tulsa, Chicago, Cleveland, Minneapolis, London, Paris, Sydney and more.
The official June 12 premiere screenings will take place in New York and L.A.
Netflix also announced that a massive companion box set titled Bob Dylan — Rolling Thunder Revue: The 1975 Live Recordings, featuring every one of Dylan's performances that appear in the film, will be released on June 7.
The 14-CD, 148-track collection will include five full professionally recorded sets from the '75 tour, as well as recently rediscovered recordings from tour rehearsals that were held at New York's S.I.R. studios.
The Rolling Thunder Revue tour featured Dylan delivering loose performances with various musicians, including Joan Baez, Ramblin' Jack Elliott, Byrds frontman Roger McGuinn, ex-David Bowie guitarist Mick Ronson and Bob Neuwirth.
Copyright © 2019, ABC Radio. All rights reserved.