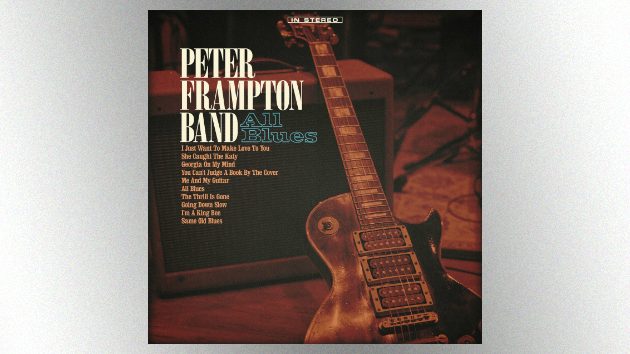 UMe
UMeShortly before Peter Frampton launches his farewell tour this summer, the British guitar whiz will release a new studio album recorded with his longtime backing group that celebrates his love of the blues.
Peter Frampton Band's All Blues hits stores on June 7, and features renditions of 10 classics from the genre.
The lead track, a cover of Willie Dixon's "I Just Want to Make Love to You," features the harmonica talents of Fabulous Thunderbirds frontman Kim Wilson. The song is available now as a digital single and via streaming services, and fans pre-ordering the album will receive an instant free download of the tune.
All Blues was recorded at Frampton's Nashville studio with his touring band. A few guest guitarists also contributed to the album: Larry Carlton, Sonny Landreth and Deep Purple's Steve Morse.
Peter says he was inspired to make All Blues while touring during the past two years with the Steve Miller Band. Frampton notes that he'd join Miller to play some blues tunes at their joint shows, which gave him the idea to record a selection of songs live in the studio.
"Over a two-week period, we recorded 23 tracks," he explains of the sessions. "The energy of these tracks is completely different from building a track one instrument at a time."
All Blues is available on CD, digitally, and as a two-LP set featuring a bonus track. A limited-edition blue-vinyl version of the double-LP can be purchased at PeterFrampton.com.
As previously reported, Peter is retiring from the road because he's been diagnosed with Inclusion Body Myositis, a progressive muscle disorder. Frampton's Finale — The Final Tour kicks off June 18 in Catoosa, Oklahoma.
Here's the All Blues track list:
"I Just Want to Make Love to You" — featuring Kim Wilson
"She Caught the Katy"
"Georgia on My Mind"
"Can't Judge a Book by the Cover"
"Me and My Guitar"
"All Blues" — featuring Larry Carlton
"The Thrill Is Gone" — featuring Sonny Landreth
"Going Down Slow" — featuring Steve Morse
"I'm a King Bee"
"Same Old Blues"
Bonus track (vinyl version only)
"I Feel So Good"
Copyright © 2019, ABC Radio. All rights reserved.