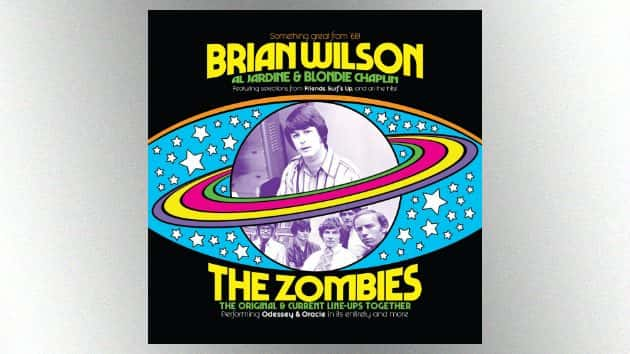 Courtesy of Brian Wilson
Courtesy of Brian WilsonFounding Beach Boys singer Brian Wilson will team up with newly minted Rock & Roll Hall of Famers The Zombies for a U.S. tour that will run from an August 31 concert in Las Vegas through a September 26 show in New York City.
The trek, dubbed "Something Great from '68!," will feature Wilson, his solo band and fellow Beach Boys alums Al Jardine and Blondie Chaplin playing selections from The Beach Boys' Friends and Surf's Up albums, plus various hits by the group.
The Zombies, meanwhile, are touring with their current lineup and all the surviving original members, and will play their classic 1968 album Odessey and Oracle in its entirety.
Tickets to most of the shows will go on sale to the general public this Friday, May 10. Check BrianWilson.com, TheZombiesMusic.com and The Zombies' Facebook page for more details.
"It's been quite a year and I'm ready to go out and tour some music that makes everyone have a feel-good vibe," Wilson says in a statement. "The Friends album has always been one of my favorites, and I love the music from that time in history."
Prior to the tour with The Zombies, Wilson has scheduled U.S. summer headlining shows that will showcase either a full performance of The Beach Boys' legendary 1966 album Pet Sounds or will focus on the group's classic hits.
The Zombies also will play a series of headlining concerts before the joint trek, but these performances only will feature the band's current lineup.
Here are Brian Wilson's headlining dates:
6/7 — Lynn, MA, Lynn Auditorium*
6/8 — Concord, NH, Chubb Theater at CCA*
6/9 — Burlington, VT, Flynn Theatre*
6/11 — Red Bank, NJ, Count Basie Theatre*
6/12 — Baltimore, MD, Hippodrome Theatre*
6/14 — Atlantic City, NJ, Hard Rock Live at Etess Arena**
6/15 — Lewiston, NY, Artpark Mainstage Theater*
6/16 — Lenox, MA, Tanglewood Music Center*
6/18 — Huber Heights, OH, Rose Music Center at The Heights*
6/20 — Nashville, TN, Schermerhorn Symphony Center*
6/21 — Nashville, TN, Schermerhorn Symphony Center*
6/23 — Aurora, IL, RiverEdge Park*
8/9 — Waterloo, NY, Del Lago Casino**
Here are The Zombies' headlining shows:
8/15 — Oshkosh, WI, Leach Amphitheater
8/17 — Cleveland, OH, Rock & Roll Hall of Fame
8/19 — Ocean City, NJ, Ocean City Music Pier
8/21 — Ridgefield, CT, The Ridgefield Playhouse
8/23 — Beverly, MA, The Cabot
8/25 — North Truro, MA, Payomet Performing Arts Center
8/27 — Fall River, MA, Narrows Center for the Arts
8/29 — Dewey Beach, DE, Bottle & Cork
And here are the joint concerts:
8/31 — Las Vegas, NV, The Joint at Hard Rock Hotel and Casino
9/1 — Indio, CA, Fantasy Springs Casino
9/6 — Phoenix, AZ, Comerica Theatre
9/7 — Pala, CA, Pala Casino
9/8 — Santa Barbara, CA, Arlington Theatre
9/12 — Los Angeles, CA, The Greek Theatre
9/13 — Oakland, CA, The Fox Theatre
9/14 — Murphys, CA, Ironstone Amphitheatre
9/16 — Seattle, WA, Paramount Theatre
9/17 — Portland, OR, Arlene Schnitzer Concert Hall
9/19 — Sandy, UT, Sandy City Amphitheater
9/20 — Denver, CO, Paramount Theater
9/22 — Milwaukee, WI, Riverside Theater
9/24 — Detroit, MI, Masonic Temple Theatre
9/26 — New York, NY, Beacon Theatre
* = Pet Sounds: The Final Performances
** = Greatest Hits Live!
Copyright © 2019, ABC Radio. All rights reserved.