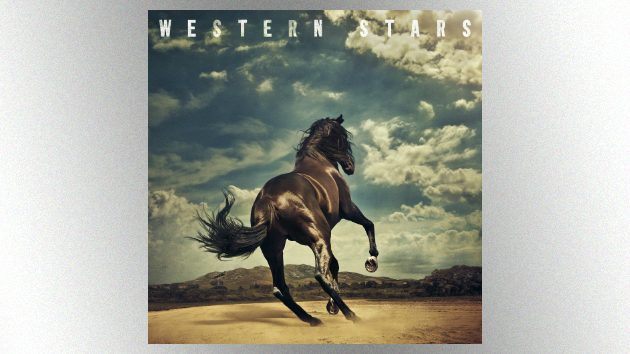 Columbia Records
Columbia Records
Bruce Springsteen's first new studio album in five years, Western Stars, gets released today. As previously reported, Springsteen describes the new collection as "a jewel box of a record" that marks "a return to my solo recordings featuring character driven songs and sweeping, cinematic orchestral arrangements."
The sound of Western Stars, as The Boss mentioned in a Variety interview in 2017, was inspired by the Southern California pop records of the late 1960s and early '70s made by artists like Glen Campbell, Harry Nilsson and Burt Bacharach.
The 13-track album delves into a variety of themes inspired by life in America, including isolation, community, "the permanence of home and hope," and "highways and desert spaces."
At midnight today, Bruce debuted the official video for Western Stars' title track, a song that tells the story of a world-weary actor who'd appeared in popular Western films but whose career has long faded. It features Springsteen in various settings — a bar, a movie set, behind the wheel of a vintage El Camino, walking down a dirt road while wearing a cowboy hat — but always returning to him performing the song in the bar as the blue-collar patrons watch in sober silence, including his wife and band mate, Patti Scialfa.
The lyrics have Springsteen's character lamenting the end of his best days. "Hell these days there ain't no more, now there's just again," he sings. "Tonight the western stars are shining bright again."
In advance of Western Stars' arrival, Springsteen also debuted three other songs from the album, "Hello Sunshine," "There Goes My Miracle" and "Tucson Train," all of which feature sweeping strings.
Springsteen co-produced the album with Ron Aniello, who worked with Bruce on his two previous studio efforts, 2014's High Hopes and 2012's Wrecking Ball. The record also features contributions from Patti Scialfa and 20 other musicians, including Jon Brion, original E Street Band keyboardist David Sancious, and current E Street Band touring members Soozie Tyrell and Charlie Giordano.
Here the full Western Stars track list:
"Hitch Hikin'"
"The Wayfarer"
"Tucson Train"
"Western Stars"
"Sleepy Joe's Café"
"Drive Fast (The Stuntman)"
"Chasin' Wild Horses"
"Sundown"
"Somewhere North of Nashville"
"Stones"
"There Goes My Miracle"
"Hello Sunshine"
"Moonlight Motel"
Copyright © 2019, ABC Radio. All rights reserved.