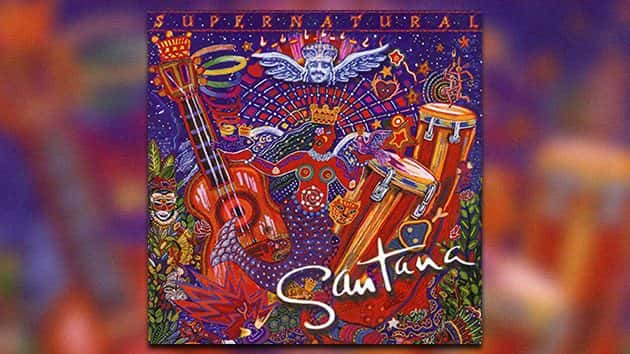 Sony Legacy
Sony LegacyTwenty years ago this Saturday, Santana's massively successful album Supernatural was released. The album featured the monster hit "Smooth," and went on to win eight Grammys — including Album, Song and Record of the Year — and sell over 15 million copies in the U.S.
Supernatural's concept — pairing legendary guitarist Carlos Santana with various performers from different genres — came from record executive Clive Davis, who then headed Santana's label. Guests included Eric Clapton, Lauryn Hill, Cee Lo Green, Mexican rockers Maná, Dave Matthews, rapper/singer Everlast, R&B duo The Product G&B and Matchbox Twenty's Rob Thomas.
"Smooth," co-written and sung by Thomas, was the album's first single. The catchy, Latin-tinged tune became Santana's first-ever #1 hit on the Billboard Hot 100, and stayed in the top spot for 12 weeks. The song also was a crossover smash, earning airplay on rock, pop and Latin radio stations.
The follow-up single was "Maria, Maria," a collaboration with The Product G&B that was co-written and co-produced by Wyclef Jean. It also reached #1 on the Hot 100, where it remained for 10 weeks.
Reflecting on the success of Supernatural and "Smooth," Carlos tells ABC Radio, "It was done by grace…I can clearly say that God, the universe, archangels and angels, whatever you believe in, [are] conspiring constantly to give you a quality of existence."
Santana will celebrate Supernatural's 20th anniversary — and the band's own 50th anniversary — on their Supernatural Now Tour, which kicks off June 20 in Irvine, California. Carlos says he'd love for his Supernatural collaborators to make guest appearances during the trek, while admitting there aren't concrete plans for that to happen.
Copyright © 2019, ABC Radio. All rights reserved.