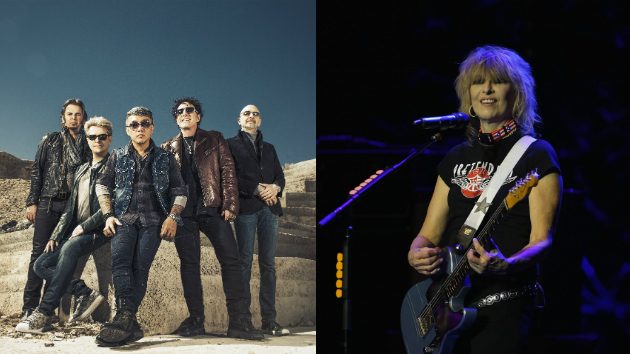 Travis Shinn; Al Pereira/Getty Images
Travis Shinn; Al Pereira/Getty ImagesJourney's 2019 itinerary is very light, with only a handful of concerts in the Northeast U.S. and a nine-show Las Vegas residency scheduled this fall, but keyboardist Jonathan Cain reports that, come next year, the band will mount a major trek with a very interesting tour mate.
"2020 there should be a pretty great tour coming," Cain tells ABC Radio. "I think we can say we have Chrissie Hynde and The Pretenders."
Jonathan says he's excited to hit the road with The Pretenders because he's "really a big fan of [Hynde] and her music," and he thinks her band "is sensational."
According to Cain, a Journey-Pretenders tour is something he's been suggesting for the last 10 years, while admitting that Hynde initially was reluctant to sign on. He says her opinion changed after her band played some large-scale concerts with Journey last year.
"[S]he got on a couple of stadium dates with us and had a lot of fun," Jonathan points out. "And our fans adore her, you know. And she went, 'Well, this isn't so bad,' you know. And then she saw our show and went, 'Oh, they're a real rock band'…She had a really great time."
Meanwhile, Cain notes that Hynde is looking and singing better than ever. "She's in great shape," he says. "I mean, she is ageless, kind of like [Heart's] Ann Wilson. You [hear her and think,] 'Yeah, still sounds like the record.'"

As previously reported, Journey's 2019 tour schedule includes a pair of two-night stands in Atlantic City, New Jersey, and Uncasville, Connecticut, as well as concerts in Bethlehem, Pennsylvania, and Niagara Falls, New York. Those shows will be followed by a Vegas residency running from October 9 through October 26.
Here are all of Journey's confirmed concerts:
9/27-28 — Atlantic City, NJ, Hard Rock Live at Etess Arena
10/1 — Bethlehem, PA, Sands Bethlehem Event Center
10/2 — Niagara Falls, NY, Seneca Niagara Resort & Casino Event Center
10/4-5 — Uncasville, CT, Mohegan Sun Arena
10/9, 11-12, 16, 18-19, 23, 25-26 — Las Vegas, NV, The Colosseum at Caesars Palace
Copyright © 2019, ABC Radio. All rights reserved.