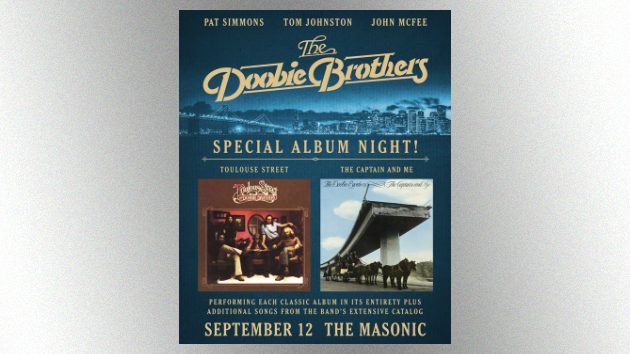 Courtesy of The Doobie Brothers
Courtesy of The Doobie BrothersThis past November, The Doobie Brothers played two concerts at New York City's Beacon Theatre that featured full performances of the band's second and third albums, Toulouse Street and The Captain and Me, and that were recorded for a recently released album and home video. Now, the veteran rockers have announced plans to bring the special show to their hometown of San Francisco for a September 12 performance at The Masonic.
Tickets for the event go on sale to the general public this Friday at 10 a.m. PT, while Doobie Brothers fans can access pre-sale tickets starting Wednesday, July 10, at 10 a.m. PT.
"We had a phenomenal experience performing both albums at the Beacon Theatre," the band says in a joint statement. "Fans came from all over the world and we ended up playing two shows. We decided to bring the same full-album performance to an intimate setting on the West Coast and The Masonic is the perfect venue."
Like the Beacon Theatre concerts, the San Francisco performance also will include select hits from other records by the group.
Toulouse Street and The Captain and Me were released in 1972 and 1973, respectively, and between them included such well-known Doobies tunes as "Listen to the Music," "Rockin' Down the Highway," "Jesus Is Just Alright," "Long Train Runnin'" and "China Grove."
Live from the Beacon Theatre was released last month as a two-CD set, a two-CD/DVD package, a Blu-ray and digitally.
The Doobie Brothers currently are serving as the support act on Santana's Supernatural Now summer tour, which winds down August 25 in Wantagh, New York. The San Francisco concert is one of more than a dozen headlining shows that The Doobies have lined up in September, October and November.
Copyright © 2019, ABC Radio. All rights reserved.