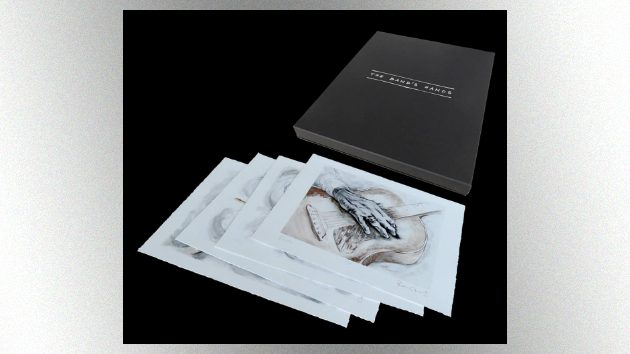 Courtesy of Ronnie Wood
Courtesy of Ronnie Wood
Rolling Stones guitarist Ronnie Wood has used his skills as an accomplished artist to pay homage to his band mates by drawing portraits — of their hands.
High-quality, hand-signed prints of the four pieces, depicting the hands of Mick Jagger, Keith Richards, Charlie Watts and Wood himself, have been collected in a limited-edition box set called The Band's Hands that can be purchased now at Shop.RonnieWood.com.
Only 150 sets are available, each collected in a hand-made signed presentation box and featuring a hand-signed frontispiece. The sets are priced at $1,850.
Wood recently posted a video on his Twitter feed that captures him flipping through a box set while signing each print and commenting on the drawings. Ronnie also tells fans that he looks forward to hearing their input on the pieces.
The Jagger drawing depicts Mick's left hand about to grab a maraca with a Rolling Stones lips-and-tongue logo on it, as a harmonica floats nearby. The Richards piece depicts Keith's right hand resting across the body of an acoustic guitar. The Watts drawing shows Charlie's two hands pressed together as if praying while holding a pair of drumsticks in a cross shape. Lastly, Wood's self-portrait depicts his left hand holding the neck of an acoustic guitar.
Copyright © 2019, ABC Radio. All rights reserved.