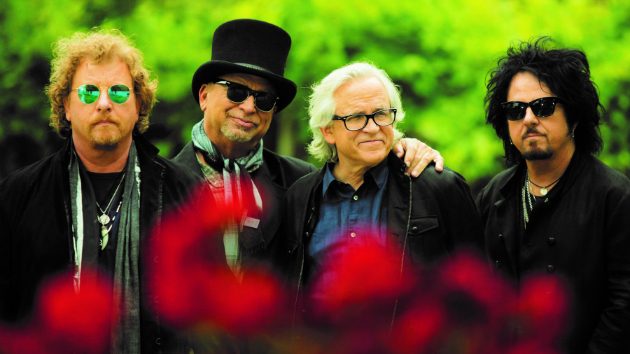 Credit: Heather Porcaro
Credit: Heather PorcaroToto launches a new U.S. tour leg tonight in Los Angeles, and guitarist Steve Lukather reveals that the outing will not only bring the band's long-running 40 Trips Around the Sun trek to a close, but it may be the group's last stateside tour ever.
"[A]s of [October] 20th that's all that we have on the books for the foreseeable future," he tells ABC Radio. "I got a whole year planned doing other stuff. Everybody else has got other stuff to do…But in the meantime…it's been a great, great run, and we're really excited about coming out [to play]."
The guitar whiz says he can't get into details about why Toto is going on indefinite hiatus, but notes, "It's not like we're fighting amongst ourselves. It's just there's a whole bunch of, outside of us, business issues that are really messed up."
Lukather reports that the new shows will feature a set similar to the one featured on Toto's new live album and concert video, 40 Tours Around the Sun, which was recorded this past March in Amsterdam.
"[W]e wanted to play stuff from all the records that we've done, all the incarnations, and I think we stayed pretty good to that," he tells ABC Radio.
Regarding how the set list came together, Lukather explains that the core members each picked a song "they really wanted to do, and then we picked stuff that the fans wanted from our Facebook page…And then we [included] all the big hits and all the stuff people really want to hear."
Steve also reveals that, unfortunately, founding keyboardist/singer David Paich has been ill and won't be touring with Toto, although he "may show up at a gig or two."

Here are Toto's scheduled tour dates:
9/20 — Los Angeles, CA, The Wiltern
9/21 — Phoenix, AZ, Celebrity Theatre
9/22 — Las Vegas, NV, Life Is Beautiful festival
9/24 — Salt Lake City, UT, Eccles Theatre – Delta Hall
9/25 — Denver, CO, Paramount Theatre
9/27 — Kansas City, MO, Uptown Theater
9/28 — Des Moines, IA, Hoyt Sherman Place
9/29 — Madison, WI, Orpheum Theater
10/1 — Minneapolis, MN, State Theatre
10/2 — Peoria, IL, Peoria Civic Center Theatre
10/4 — Chicago, IL, The Chicago Theatre
10/5 — Mount Pleasant, MI, Soaring Eagle Casino & Resort
10/6 — Tiffin, OH, Ritz Theatre
10/8 — Nashville, TN, Ryman Auditorium
10/9 — Birmingham, AL, Alabama Theatre
10/10 — Atlanta, GA, Atlanta Symphony Hall
10/12 — Wabash, IN, Honeywell Center
10/13 — Northfield, OH, MGM Northfield Park – Center Stage
10/15 — Port Chester, NY, Capitol Theatre
10/16 — Englewood, NJ, Bergen Performing Arts Center
10/18 — Mashantucket, CT, Foxwoods Resort Casino – Grand Theater
10/19 — Red Bank, NJ, Count Basie Theatre
10/20 — Philadelphia, PA, The Met Philadelphia
Copyright © 2019, ABC Radio. All rights reserved.