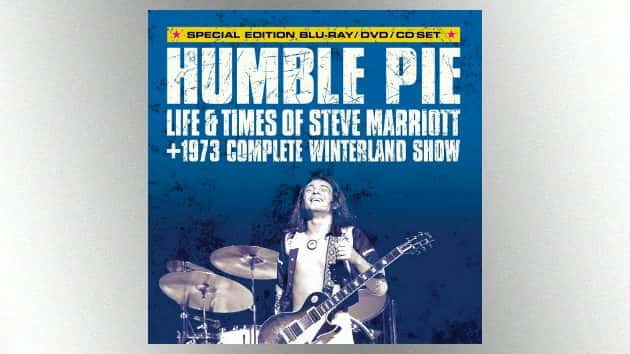 Cleopatra Entertainment
Cleopatra EntertainmentPeter Frampton and Cheap Trick's Rick Nielsen and Bun E. Carlos are among the music stars featured in a documentary about late Small Faces and Humble Pie frontman Steve Marriott that will be released as a special Blu-ray/DVD/CD set on November 19.
Humble Pie: Life and Times of Steve Marriott takes an in-depth look at the dynamic yet unsung singer/guitarist, who died in a tragic house fire in 1991 at age 44. The film features archival interviews with Marriott, unseen photos and memorabilia, home movies and rare performance footage of Small Faces and Humble Pie.
The documentary also includes interviews with John Waite, Bad Company and Free drummer Simon Kirke, The Black Crowes' Chris Robinson, Quiet Riot's Kevin Dubrow and Humble Pie drummer Jerry Shirley and bassist Greg Ridley.
Marriott co-founded Small Faces in 1965 and wrote or co-wrote many of the band's songs, including its biggest U.S. hit, "Itchycoo Park." He left the group in 1968, and then formed the popular boogie-rock outfit Humble Pie with Frampton, Shirley and Ridley.
The DVD and Blu-ray boast a variety of bonus features, including behind-the-scenes footage, an interview with Frampton, a secondary audio track with just the music from the film, an interactive photo gallery and more.
The CD featured in the package includes a full concert that Humble Pie played in 1973 at the famous San Francisco venue Winterland. Here's the full track list to the Hot n' Nasty 1973 — Complete Wonderland Show live album:
"Up Your Sleeves"
"4-Day Creep"
"C'mon Everybody"
"Honky Tonk Woman"
"Stone Cold Fever"
"I Believe to MY Soul"
"Thirty Days in the Hole"
"(I'm a) Road Runner"
"Hallelujah (I Love Her So)"
"I Don't Need No Doctor"
"Hot n' Nasty"
Copyright © 2019, ABC Audio. All rights reserved.