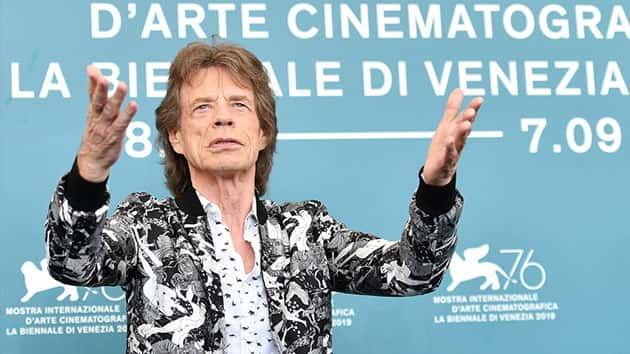 ALBERTO PIZZOLI/AFP via Getty Images
ALBERTO PIZZOLI/AFP via Getty ImagesAn official trailer for The Burnt Orange Heresy, a new art-heist thriller that features Mick Jagger in a major role, has debuted online at Sony Pictures Classics' YouTube channel.
In the movie, the Rolling Stones singer portrays Joseph Cassidy, a British art dealer who's the patron of a famous and reclusive painter named Jerome Debney, played by Donald Sutherland. Intrigue ensues when Cassidy invites an art critic named James Figueras, played by Netflix's Dracula star Claes Bang, to his estate on Italy's Lake Como and make him a proposition.
"At the edge of my property there's a dilapidated little house. In this house there's an artist," Cassidy tells Figueras in the trailer. "No critic has spoken to this guy in over 50 years. Think of the splash it would make [if you were able to] see and describe his current work. You could be running a major museum soon."
Bang's character asks Jagger's, "Why would you do this for me?" Mick as Cassidy says, "I'd value a Debney, James. And I'd like you to procure one for me."
The Burnt Orange Heresy was directed by Italian director Giuseppe Capotondi, whose other credits include the Epix series Berlin Station and a variety of music videos.
In other news, a podcast production company called Rainy Day Podcasts that Jagger co-founded has signed a development deal with Warner Bros., Deadline reports. The agreement calls for the production of as many as seven podcasts focusing on such entertainment genres as comedy, drama, documentaries and talk shows.
A joint statement from Jagger and his Rainy Day Podcasts partners reads, "Everything starts with the word. We're very excited to be working with Warner Bros. to create an environment where the best writers are free to pursue their passion projects with maximum creative freedom."
Copyright © 2020, ABC Audio. All rights reserved.